Certified Asbestos Company by the State of Florida
Professional Asbestos Removal in Florida, Miami and Nearby Cities
Asbestos Removal PRO is proud to offer asbestos removal services to the people of South Florida, all the way from Homestead to West Palm Beach.
We are a licensed asbestos removal firm for both residential and commercial properties, and provide competitive pricing and free quote and consults to our clients for asbestos testing and abatement.
What is asbestos, and why should it be removed?
Asbestos is a mineral that is durable, heat and sound resistant, and insulating. Because of these qualities, it was used in a number of building materials for many years. That is, of course, until asbestos fibers were found to be highly toxic.
When breathed in, asbestos can cause lung disease, ovarian cancer, mesothelioma cancer, and asbestosis among other ailments. Because of this, if asbestos is present in your building, it is important to have it properly and safely sealed or removed by a certified asbestos removal firm.
For a Free Estimate & Consultation Call Us at (954) 676-2755 or Click Here to Send Us a Message Now
Where we work
Asbestos Removal PRO offers asbestos removal services for both residential and commercial buildings in South Florida:
Miami Dade County
Coral Gables
Miami Beach
Miami Gardens
Kendall
El Doral
Homestead
Palm Beach
West Palm Beach
Boynton Beach
Delray Beach
Boca Raton
Fort Lauderdale
Hollywood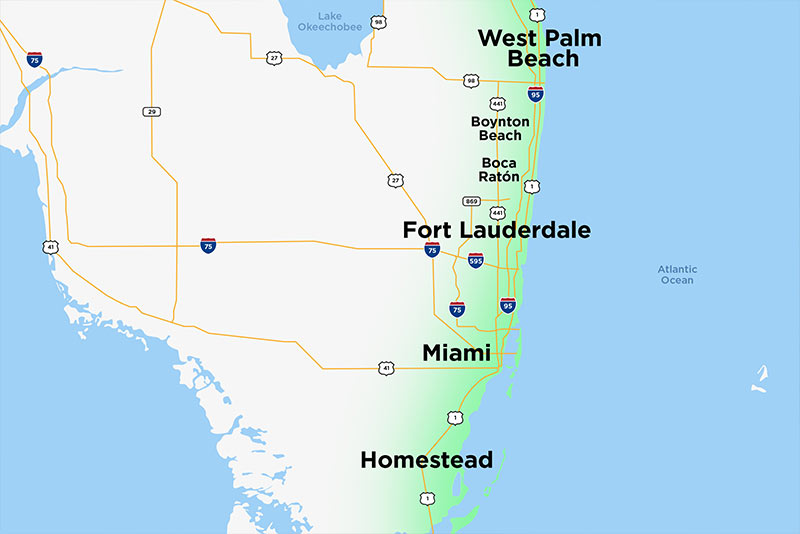 Does my building contain asbestos? 
If your home or commercial property was built between the 1930s to 1980s, there is a good chance that one or more materials on the interior or exterior contains asbestos. Unfortunately, asbestos cannot be seen with the naked eye.
To find out for sure if your building contains asbestos, it's important to have it tested by a professional asbestos removal company. Asbestos Removal PRO can test your home or property for harmful materials, and form a plan to have them removed or encapsulated.[/column_1]
How can you remove asbestos from your home? 
Asbestos is a friable material that is dangerous to remove yourself. We highly recommend that all testing, inspection, encapsulation, or removal, is performed by a licensed contractor. Our firm works in strict compliance with all federal, state, and local regulations to keep you safe.
There are many areas of your home or building that may contain asbestos. Asbestos Removal PRO contractors are licensed and certified in many removal services such as:
Asbestos Roof Shingle Removal
Asbestos Floor and Tile Removal
Asbestos Popcorn Ceiling Removal
Asbestos Vermiculite Insulation Removal 
Keep your community safe – give Asbestos Removal PRO a call today 
The team at Asbestos Removal PRO meets all OSHA protocols and regulatory standards for the state of Florida. Our contractors put your safety above all else, and provide competitive pricing and free quotes and consults to help you feel confident about your decision to work with us.
Contact us and get a free quote
Mario Ramirez
If we are on a call please send us a text message and we will get back to you ASAP.