Certified Asbestos Company by the State of Florida
Professional Asbestos Siding Removal in Miami, Florida and Nearby Cities
Asbestos fibers were used in construction for years because of their durability. Many residential and commercial buildings in South Florida contain asbestos materials, from pipe insulation to siding. Unfortunately, asbestos has been found to do more harm than good.
Why is asbestos so dangerous?
Asbestos has been proven to cause a number of health issues if inhaled. Once you breathe in asbestos fibers, your body cannot get rid of them. While you may not see adverse health effects immediately, over time you can develop asbestosis, pleural plaques, lung cancer, and mesothelioma.
Asbestos is usually not harmful if left undisturbed. If the material begins to break down, however, or if you are planning to do any renovation on your property, it can be very dangerous to everyone present. Because of this, it is best to have your building inspected for asbestos containing materials.
For a Free Estimate & Consultation Call Us at (954) 676-2755 or Click Here to Send Us a Message Now
Where we work
Asbestos Removal PRO offers asbestos removal services for both residential and commercial buildings in South Florida:
Miami Dade County
Coral Gables
Miami Beach
Miami Gardens
Kendall
El Doral
Homestead
Palm Beach
West Palm Beach
Boynton Beach
Delray Beach
Boca Raton
Fort Lauderdale
Hollywood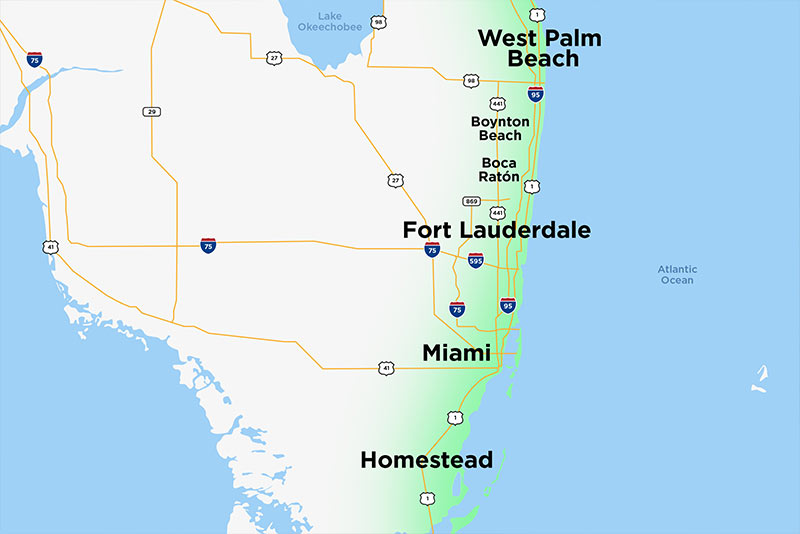 How does asbestos siding removal work?
A certified asbestos removal firm like Asbestos Removal PRO knows how to properly remove and encapsulate asbestos siding. Our contractors follow all the OSHA protocols and Florida state guidelines to ensure the safety of all involved. Given that asbestos is a highly hazardous material, it is important to have it handled by a professional. We follow the highest safety standards to protect our workers and your family, tenants, employees or other residents of your building throughout the asbestos removal process.
When we undertake an asbestos siding disposal project, we seal off the area completely and put up notices as needed to keep the community safe. We will fully wet the material in question to prevent the spread of airborne fibers. This step ensures that no dangerous microparticles of asbestos are released into the air and prevents any inhalation of toxic materials.
If we are simply encapsulating the area, our workers are skilled at cleaning asbestos siding and sealing it off to prevent it from doing harm. Throughout our projects, we put the health and safety of our customers above all else. It is wise to have your asbestos siding removed or sealed by a professional company who can guarantee that procedures are performed in a cautious manner and that safety protocols are closely followed.
Does my home's siding contain asbestos?
Asbestos cement siding was a popular building material in Florida from the 1940s to 1970s. After it was discovered that exposure to asbestos was linked with aggressive types of cancer, it was used less. Although there is no official ban in place, asbestos is regulated by the Environmental Protection Agency. Since it has now been scientifically proven that asbestos causes severe health issues, it is no longer widely used in construction.
If your home has cement siding and was built before 1978, it's quite possible that it contains asbestos. The only way to know for sure is with an inspection. Due to the likelihood that your home built before 1978 may contain asbestos, it's best to schedule an inspection to have it tested. Having an inspection performed can give you the peace of mind of knowing for sure whether or not your home's siding contains asbestos. 
Having a licensed asbestos removal firm test your shingles for hazardous materials can confirm for you if any asbestos materials were used in the construction of your home's siding. Based on the results of the inspection, a certified asbestos removal company can help you to form a plan to remove and replace asbestos siding if needed.
Every client of Asbestos Removal PRO receives a free quote and consult
If you suspect your building may contain hazardous siding, contact our helpful team today for a free quote on removal or encapsulation. We do our best to keep our work cost-effective, efficient, and safe – so you can enjoy your building for years to come.

Contact us and get a free quote
Mario Ramirez
If we are on a call please send us a text message and we will get back to you ASAP.