Certified Asbestos Company by the State of Florida
Professional Asbestos Lead Paint Removal in Miami, Florida and Nearby Cities
Why is lead paint harmful?
Lead is dangerous for people of all ages, but particularly so for children below the age of six. Lead poisoning can cause serious health issues, from nerve, kidney, and brain damage, to hearing a vision loss.
Even a small amount of lead in paint can be hazardous. Luckily, as long as your paint is not chipping or flaking, it is not likely to do you harm. That's because lead poisoning usually occurs when lead is ingested.
Professional Asbestos Abatement
Highest Standards of Quality Control
Certified Asbestos Abatement Company
More than 21 Years of Experience
For a Free Estimate & Consultation Call Us at (954) 676-2755 or Click Here to Send Us a Message Now
Where we work
Asbestos Removal PRO offers asbestos removal services for both residential and commercial buildings in South Florida:
Miami Dade County
Coral Gables
Miami Beach
Miami Gardens
Kendall
El Doral
Homestead
Palm Beach
West Palm Beach
Boynton Beach
Delray Beach
Boca Raton
Fort Lauderdale
Hollywood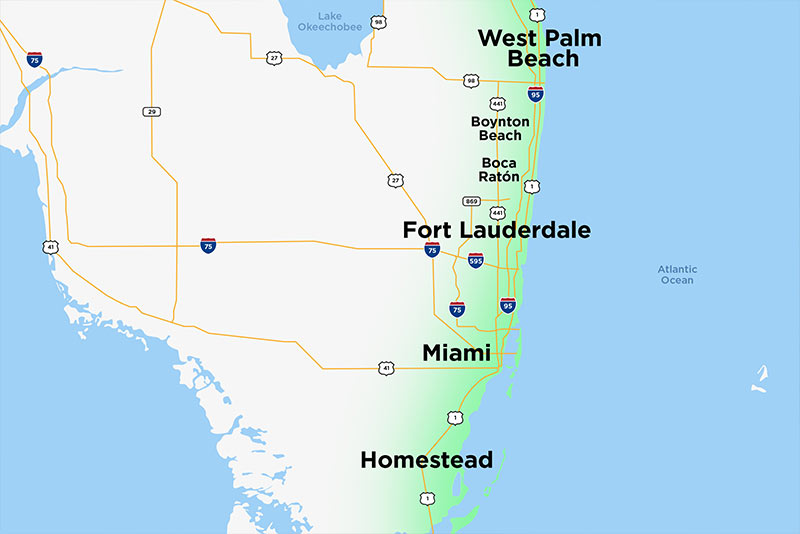 How can I tell if there is lead in my paint?

If your building was built between the 1940s and 1970s, it's quite possible that the interior or exterior paint contains lead. It wasn't until 1978 that lead paint was banned by the Consumer Product Safety Commission. Luckily, modern-day paints require a warning label they contain lead.
To find out if your paint contains lead, you will need to have an inspection done. A certified contractor like Asbestos Removal PRO can help you test your home or office, and determine the best response if lead is present.
Testing for lead paint is crucial if you plan to remodel or sell your building – or if you see flaking paint anywhere on the premises. This is especially true if there are children or pregnant women present, as they will be the most adversely affected by traces of lead.
How can I remove lead paint from my building? 
If you know there is lead present in your paint, there are a few options on how to proceed. Sometimes, it's actually better to seal the paint in rather than remove it entirely. Our contractors will assess which lead paint abatement service will be best in your specific case, and will work swiftly and efficiently to ensure the safety of everyone.
How much does lead paint removal cost?
The cost of lead paint removal will vary greatly depending on a number of factors, including: location, size of the affected area, and building condition, as well as if anyone has elevated levels of lead in their blood (in which case extra testing and precautions need to be undertaken).
At Asbestos Removal PRO, we always provide free consultation and quotes to our clients. We also have fair pricing, and will work with you to fit the service into your budget.
Contact us and get a free quote