Certified Asbestos Company by the State of Florida
Professional Asbestos Removal Contractors in Miami, Florida and Nearby Cities
Asbestos Removal Contractors in South Florida
If you are concerned that there may be asbestos in your home, or are planning on remodeling or selling your property, it's a good time to contact a professional asbestos removal firm.
The licensed asbestos contractors at Asbestos Removal PRO can help you with asbestos testing and abatement in your residential or commercial properties.
Highest Standards of Quality Control

Accurate & Fast Results

Certified Asbestos Company

More than 21 Years of Experience
For a Free Estimate & Consultation Call Us at (954) 676-2755  or Click Here to Send Us a Message Now
Where we work
Asbestos Removal PRO offers asbestos removal services for both residential and commercial buildings in South Florida:
Miami Dade County
Coral Gables
Miami Beach
Miami Gardens
Kendall
El Doral
Homestead
Palm Beach
West Palm Beach
Boynton Beach
Delray Beach
Boca Raton
Fort Lauderdale
Hollywood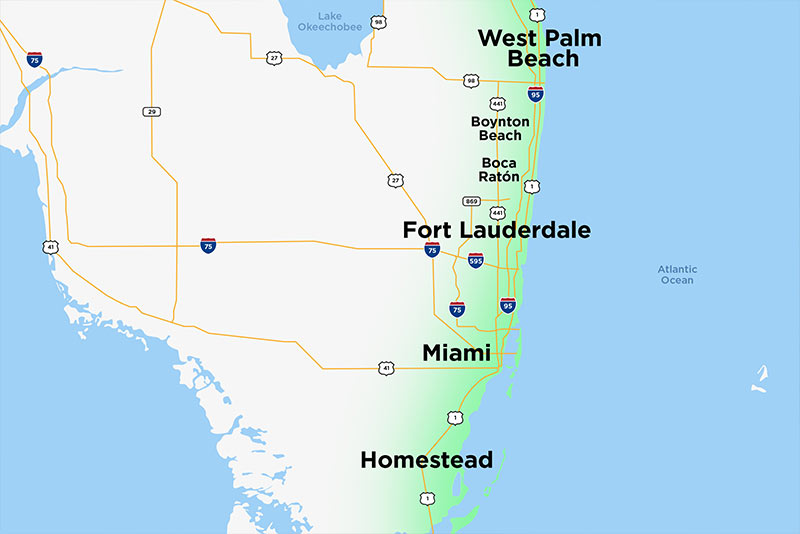 What is a licensed asbestos removal contractor? 
An asbestos removal contractor performs asbestos abatement services such as containment, encapsulation, removal, and disposal of asbestos containing construction materials. However, not all asbestos removal companies are created equal.
To ensure you work top-quality asbestos contractors, make sure they:
Are certified in asbestos removal in the state of Florida
Are experts in working with all types of asbestos-containing materials
Have all relevant industry-accredited certificates for asbestos removal
The professional contractors at Asbestos Removal PRO tick all those boxes and more. We are trusted asbestos removal contractors for communities all over South Florida. We take your safety seriously, and all our contractors undergo additional (and continuous) training to provide the very best work for our clients.
Why do I need to hire professional asbestos contractors?
Asbestos is a highly hazardous and carcinogenic material. If you live in an older home, or are planning to undertake a construction project, you are at high risk for being exposed to asbestos fibers.
Rather than disturbing any asbestos-containing materials yourself, it's important to entrust the process to someone who is certified and trained in the safe removal of these harmful materials.
The asbestos removal contractors at Asbestos Removal PRO know how to ensure safety and protect both residents and workers throughout the removal of these materials.
Although some types of renovations may be fine for a DIY project, asbestos removal is definitely not one of them! Moving asbestos or disturbing it in any way can cause dangerous fibers to be released into the air. These fibers have been scientifically proven to cause aggressive types of cancer. If your building contains asbestos, it is vital that you hire a company who is certified and experienced in asbestos removal.
A team you can trust
The team at Asbestos Removal PRO is fully licensed and knowledgeable in the safe removal and encapsulation of all types of asbestos-containing materials including:
Asbestos cement
Asbestos insulation board
Spray coating
Lagging insulation
Textured coatings
Composite, bitumen products
Your safety is our top priority all throughout the process, and we do our best to keep you confident and informed every step of the way. We provide excellent customer service, including free quotes and consults, competitive pricing, and no hidden fees.
Start your free consultation with our team today!
Our highly trained staff are always happy to assist you and answer your questions. Please don't hesitate to give us a call at (954) 676-2755  or send us a message online. We can get you set up for a free consultation, or get you started with professional asbestos testing.
Contact us and get a free quote
Mario Ramirez
If we are on a call please send us a text message and we will get back to you ASAP.