Certified Asbestos Company by the State of Florida
Professional environmental remediation services in South Florida
We take the physical health and well-being of our clients very seriously here at Asbestos Removal PRO. If there are toxic chemicals, mold, or asbestos present in your home or commercial property, we consider it our duty to perform environmental remediation to keep you safe. 
Environmental remediation is the removal of pollutants and contaminants that could harm your health. Remediation services also involve the restoration of the environment after those toxic substances have been removed.
There are many toxins that can be absorbed or released by building materials. They can enter our land, our water, and even our bodies. When ingested, these materials can be incredibly hazardous to health causing anything from heart disease to respiratory issues to cancer.
As a department of Healthy Homes LLC, Asbestos Removal PRO forms part of a network of trained, certified professionals that can assist you with environmental remediation services.
For a Free Estimate & Consultation Call Us at (954) 676-2755 or Click Here to Send Us a Message Now
Where we work
Asbestos Removal PRO offers asbestos removal services for both residential and commercial buildings in South Florida:
Miami Dade County
Coral Gables
Miami Beach
Miami Gardens
Kendall
El Doral
Homestead
Palm Beach
West Palm Beach
Boynton Beach
Delray Beach
Boca Raton
Fort Lauderdale
Hollywood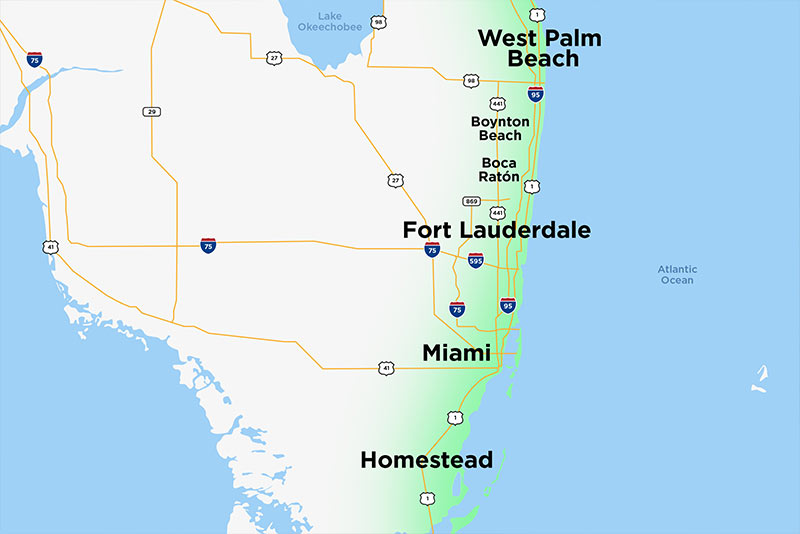 Why is environmental remediation important?
Cleaning up environmental pollution is essential for everyone's wellbeing. Mold, asbestos, and other toxic contaminants can create mild to serious health risks for those exposed to them. Even your building can be damaged and deteriorate due to mold and asbestos. 
If you suspect (or are aware of) mold or asbestos containing materials on your property, it's important to contact a professional environmental remediation service quickly so that it does not continue to spread. 
Professionals know how to properly dispose of these materials in a way that is safe for both you and the environment. This will also help you avoid potential legal problems or delays in a construction process. Our asbestos removal contractors are certified and up-to-date on all regulatory standards.
What is the environmental remediation process?
The environmental remediation process often consists of the following steps:
Site assessment: First, our contractors will examine and test the site in question to determine if contaminants are present. We will sample building materials, soil, and groundwater to evaluate the extent of the issue. 
Determining remediation methods: Next, we will decide the appropriate cleanup method such as excavation, dredging, oxidation, soil vapor extraction, thermal desorption, pump and treat, or nanoremediation. 
Selecting safety measures: We will assess what is necessary to protect you, your community members, and our contractors.  
Remediating the area: We will conduct our remediation services in compliance with all local and federal regulations.  
Further evaluation: Once environmental remediation is complete, we will re-examine the area to determine that it is safe and our job was successful.
An environmental remediation service you can trust
We are certified by the state of Florida in the safe removal of mold and all asbestos containing materials. Our contractors are trained in remediation procedures and regulations to ensure your space is safe and clean, and we offer cost effective and efficient solutions for environmental remediation in both residential and commercial buildings.
Call today for your free estimate and consultation
Give Asbestos Removal PRO a call to see how we can keep your home or commercial building safe. We offer free quotes and consults on all our services. Simply contact our team at (954) 676-2755 or send us a message today to inquire about our remediation services.
Contact us and get a free quote
Mario Ramirez
If we are on a call please send us a text message and we will get back to you ASAP.