Certified Asbestos Company by the State of Florida
Professional Asbestos Inspections in Miami, Florida and Nearby Cities
Asbestos Inspections in South Florida
Asbestos Removal PRO is a certified asbestos removal firm in the South Florida area. On top of our services in asbestos encapsulation and abatement, we provide professional asbestos inspections in both residential and commercial buildings.
Professional Asbestos Testing

Highest Standards of Quality Control

Accurate & Fast Results

Certified Asbestos Company

More than 21 Years of Experience
For a Free Estimate & Consultation Call Us at (954) 676-2755  or Click Here to Send Us a Message Now
Where we work
Asbestos Removal PRO offers asbestos removal services for both residential and commercial buildings in South Florida:
Miami Dade County
Coral Gables
Miami Beach
Miami Gardens
Kendall
El Doral
Homestead
Palm Beach
West Palm Beach
Boynton Beach
Delray Beach
Boca Raton
Fort Lauderdale
Hollywood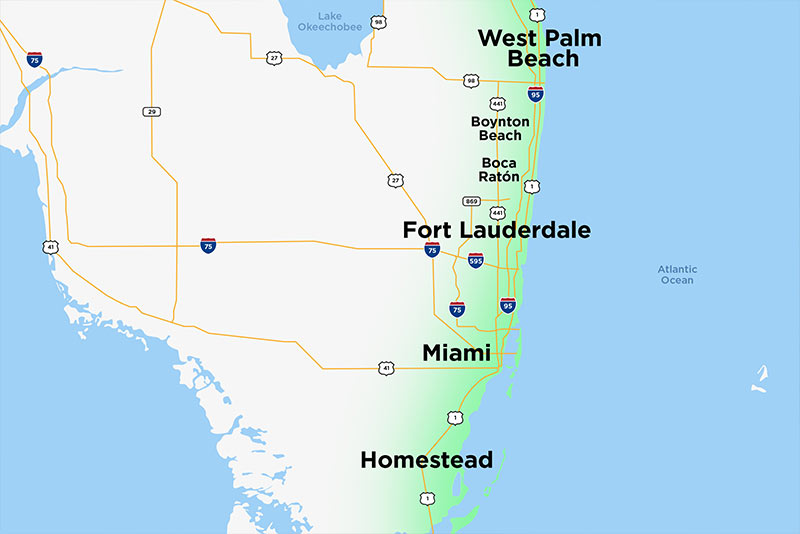 Does my building contain asbestos?
If your building was constructed between 1930 to 1980, there is a good chance that one or more of the construction materials could contain asbestos. The only way to be sure if there are asbestos-containing materials in your building is by doing an inspection. An inspection that is carried out by a Certified Asbestos Abatement Company can provide you with a clear answer as to whether or not your building contains asbestos.
Since asbestos is a dangerous material that can cause a myriad of health problems, it is best to have a professional inspection performed if you believe that your residence or office building might contain asbestos. The health problems caused by asbestos fibers worsen over time, so it's ideal to get your building inspected early on. The sooner, the better! Protecting the safety of you, your family, tenants, employees or customers is a top priority. Testing for asbestos is a quick and effective way to identify  and deal with any risk of exposure.
In order to ensure that your building is properly tested and that a safe and effective plan is put into place if asbestos is detected, be sure to contact professionals who are certified and licensed in asbestos inspection and removal.
What is asbestos – and why is it dangerous?
Asbestos is a naturally occurring mineral that was commonly used in construction up until the 1980s. It became popular due to its durability, as well as its heat- and sound-resistant properties. Unfortunately, it came to light that asbestos fibers are extremely hazardous to your health.
Asbestos fibers can cause all sorts of issues if inhaled, including: lung disease, ovarian cancer, and mesothelioma. Furthermore, asbestos can cause secondary exposure. The microscopic fibers can cling to clothing items and be carried with the person who was initially exposed to the asbestos, causing them to expose other people. For the safety of everyone's health, if there is any asbestos in your building, it is vital to have it properly sealed or removed by a certified asbestos removal firm.
The dangers associated with asbestos are numerous. Since asbestos was so commonly used for several decades in many construction projects, it is important to have your building inspected by professionals if you suspect that there are asbestos-containing materials. This is especially true if there are any construction projects or natural disasters, which may cause the asbestos fibers to be released into the air. However, even if there are no such events, asbestos fibers can be released over time due to gradual wear and tear. 
When is the best time to test for asbestos?
It's always important to ensure you're living in a safe environment, but it's especially important if:
1.You reside in an older building
If your building was built before the 1980s, there is a high probability that one or more of the materials used contains asbestos. As the materials age and break down, they become more apt to spread fibers into the air. It's best to have an inspection done before this happens.
2.You plan to remodel your building 
If you plan to knock down a wall or rip up some flooring, you are at high risk of coming into contact with asbestos-containing materials. Before you open up or disturb anything, it's important to have a professional test the area to ensure it is safe to proceed.
3.You intend to buy or sell a property 
When selling a property to someone else, you are legally required to declare if asbestos-containing materials are present. It is important to know both as a seller, and as a potential buyer of new homes. An asbestos test in either case will put everyones' mind at ease.
Professional asbestos inspection services
Asbestos Removal PRO offers full asbestos inspections for residential and commercial buildings. When we conduct a home inspection for asbestos, we will take very small samples of potentially hazardous materials that we will send to a lab for testing.
If we detect asbestos anywhere in your building, we can help you form a plan for its safe encapsulation or removal.
Keep safe – contact Asbestos Removal PRO today
If you would like a mold and asbestos inspection for your home or work place, reach out to us at (954) 676-2755  or contact us online. We would be happy to assist you.
Contact us and get a free quote
Mario Ramirez
If we are on a call please send us a text message and we will get back to you ASAP.