Certified Asbestos Company by the State of Florida
Professional Asbestos Popcorn Ceiling Removal in Miami, Florida and Nearby Cities
Popcorn ceilings were all the rage from the 1930s to the 1990s. If your home was built during that time, there is a good chance it features the fun, textured look. But, is that look harmful to your health? Do popcorn ceilings have asbestos in them?
Professional Asbestos Testing

Highest Standards of Quality Control

Accurate & Fast Results

Certified Asbestos Abatement Company
100% Safe Asbestos Removal
More than 21 Years of Experience
For a Free Estimate & Consultation Call Us at (954) 676-2755 or Click Here to Send Us a Message Now
Where we work
Asbestos Removal PRO offers asbestos removal services for both residential and commercial buildings in South Florida:
Miami Dade County
Coral Gables
Miami Beach
Miami Gardens
Kendall
El Doral
Homestead
Palm Beach
West Palm Beach
Boynton Beach
Delray Beach
Boca Raton
Fort Lauderdale
Hollywood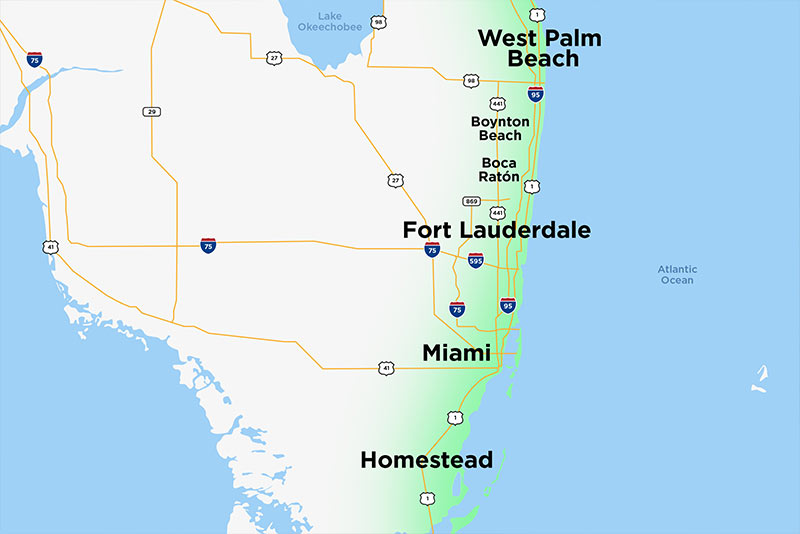 Is there asbestos in popcorn ceilings?
Popcorn ceilings were very popular from the 1950s up until the 1990s. The style was useful for covering up imperfections and for the acoustic insulation that it provides.
During this period of time, asbestos was also a popular and commonly used material because of its durability and heat and sound resistant qualities. This overlap in trends suggests that if you have a popcorn ceiling in a building that was constructed during that time period, there is a chance that there are asbestos materials in the popcorn ceiling.
So do all popcorn ceilings have asbestos?
Luckily, not all of them do. However, there is definitely a risk. Since asbestos was such a popular material during that time frame when popcorn ceilings were a trend, there is a chance that asbestos materials were used. Asbestos has been proven to cause cancer and other health conditions. For this reason, it's important that popcorn ceilings that contain asbestos be removed by professionals. 
If you suspect that there may be asbestos in your popcorn ceilings, you should schedule an inspection by a Certified Asbestos Abatement Company.
What does asbestos popcorn ceiling look like? 
Popcorn ceilings look the same – with or without asbestos. There isn't really a way to tell if your ceiling contains asbestos just by looking at it. That's why it's important to get it tested by a professional.
If you contact Asbestos Removal PRO for a free consultation, we can help test your ceiling to see if it should be encapsulated or removed.
How to remove an asbestos popcorn ceiling
So you've found out your ceiling contains asbestos. Now what?
Popcorn ceiling is a friable material, which means it is very easy to damage. That also means it can release toxic fibers with even the slightest disturbance. These fibers can cause terrible health issues and even lung cancer and mesothelioma.
Because of these dangers, it's best to leave asbestos ceiling removal and encapsulation to certified professionals.
Encapsulation means covering the ceiling so the asbestos fibers cannot be released. We can cover your ceiling with vinyl paint or ceiling panels to seal the asbestos in. Encapsulation is only an option if you aren't planning any renovation or demolition work.
If you plan to make changes to your home, it's best to remove the popcorn ceiling altogether. Asbestos Removal PRO contractors know how to safely and efficiently remove the toxic materials. They will properly seal and wet the area to prevent asbestos dust from spreading.
Take the first step towards an asbestos-free home
Contact Asbestos Removal PRO today for a free quote and consultation on asbestos removal. We can help you test your ceiling, and set up a plan to remediate the issue and keep everyone safe.
Contact us and get a free quote
Mario Ramirez
If we are on a call please send us a text message and we will get back to you ASAP.