Certified Asbestos Company by the State of Georgia
Professional Asbestos Shingle Removal in Atlanta, GA and Nearby Cities
Asbestos Removal PRO provides professional and affordable home asbestos testing and asbestos removal for the Atlanta community. Our licensed contractors put your safety first in all that they do, and will help you make your house a home again.
Professional Asbestos Abatement
Highest Standards of Quality Control
Certified Asbestos Abatement Company
100% Safe Asbestos Removal
More than 21 Years of Experience
For a Free Estimate & Consultation Call Us at 404.456.6438 or Click Here to Send Us a Message Now
Where we work
Asbestos Removal PRO offers asbestos removal services for both residential and commercial buildings in Atlanta, GA and Nearby Cities:
Alpharetta
Atlanta
Cumming
Decatur
Duluth
East Point
Fayetteville
Holly Springs
Lawrenceville
Marietta
Newnan
Norcross
Roswell
John's Creek
Suwanee
Sandy Springs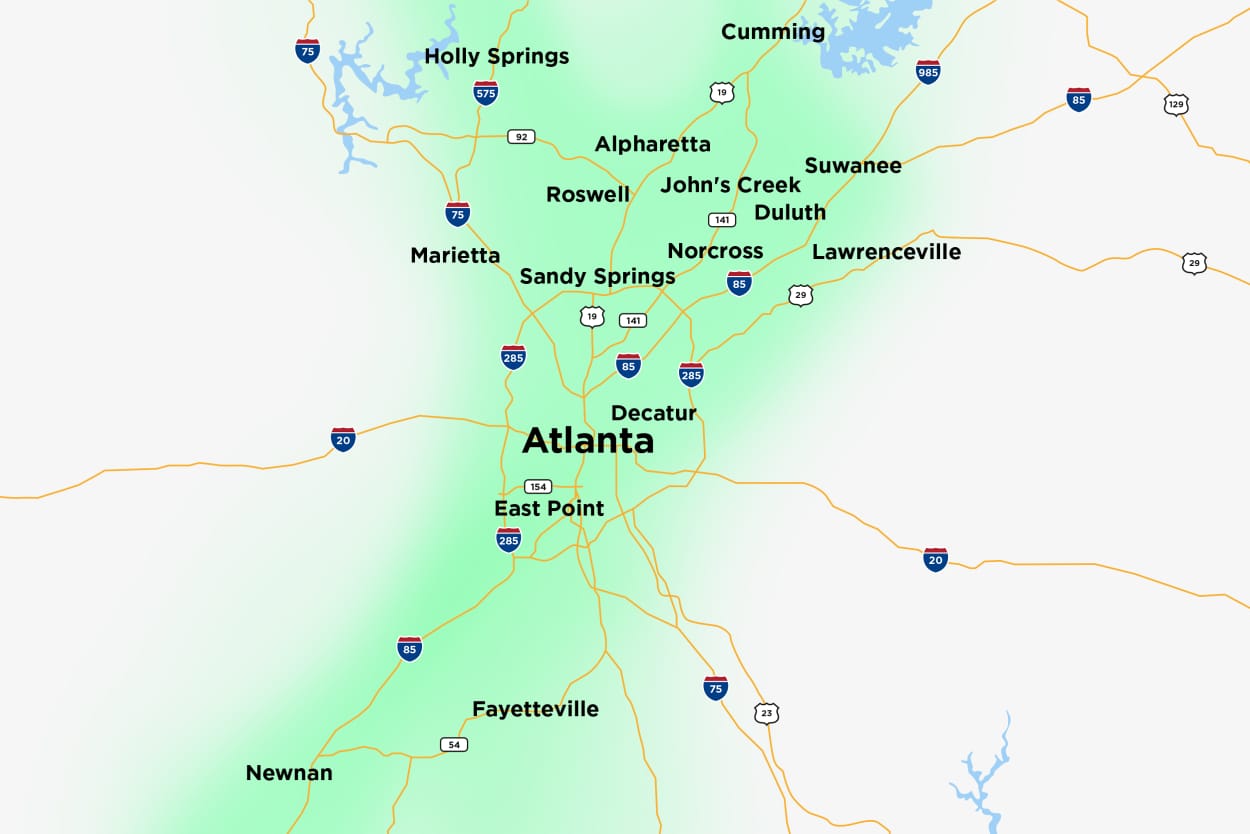 What is asbestos?
Asbestos is a fibrous mineral that was commonly used in home construction because it is fire-resistant, sound-resistant, and insulating qualities. It became illegal to use in building materials once it was discovered that the fibers were carcinogenic and hazardous.
While asbestos isn't usually dangerous if left undisturbed, it can be released into the air during construction projects – or simply as it breaks down from age. If breathed in, asbestos fibers can cause lung disease, pleural plaques, and mesothelioma cancer.
If there is any asbestos in your home, it's best to contact professionals to safely remove it, or seal it properly so that the fibers cannot become airborne. 
How do I know if my home contains asbestos?
If you have an older home that was built between 1930-1980, it's very possible that some of the materials contain asbestos. Unfortunately, asbestos fibers are so small that there is no way to see them with the naked eye. The only way to know for sure is to get your home tested by a certified asbestos removal firm.
When is a good time to test for asbestos?
If you are planning to buy a new home, or sell or rent your current one, it's important to be aware of any asbestos-containing materials on the property. It's also crucial to get asbestos testing done before any home remodeling projects, to ensure the safety of you and your family.
How does home asbestos testing work?
If you contract our team for residential asbestos testing, we will send licensed contractors to take small samples of materials they think could contain asbestos. Some common asbestos-containing materials include:
Once we have collected samples from your home, we will send them to an official lab for testing. We can also test the air quality in your home to alert us of the presence of any asbestos fibers. We will notify you immediately of any findings, and form a plan for asbestos removal as needed.
The residential asbestos abatement process
Asbestos Removal PRO takes your safety seriously. We follow all state and federal guidelines for the safe encapsulation and disposal of asbestos materials. All our contractors are licensed and certified in the state of Georgia, and we use the latest techniques and equipment to ensure your safety.
During home asbestos removal, we will put up signs to warn your community, and completely seal off the affected area to make sure no one comes into contact with asbestos fibers. Our contractors wear professional safety gear, and will thoroughly clean your home after our job is done to ensure it's a safe place for you to live.
Contact us today for a free quote on your home asbestos removal
Asbestos Removal PRO provides free quotes and consultations for our home asbestos abatement services all over the Atlanta area. Contact us online, or call us today at 404-456-6438.
Contact us and get a free quote
Mario Ramirez
If we are on a call please send us a text message and we will get back to you ASAP.