Certified Asbestos Company by the State of Georgia
Professional Asbestos Testing in Atlanta, GA and Nearby Cities
If you have found mold in your home, office, school, or commercial property, chances are your first reaction is to think about how to get rid of it! However, this may or may not be the best course of action. Mold develops in areas where there is excess moisture. In our buildings, we may find mold above bathrooms, in basements or attics, or in wall interiors. Some molds are harmless, while others can be toxic. Identifying what type of mold is present can be important, especially if people who have a high sensitivity to mold are regularly occupying the space in question.
For people with high sensitivity to mold, mold may cause nasal congestion, throat irritation, cough, and irritation of the eyes or skin. People with mold allergies could potentially have even more serious adverse reactions to mold spores. Furthermore, people with weak immunological systems or respiratory problems are vulnerable to infections caused by certain molds..
For a Free Estimate & Consultation Call Us at 404.456.6438 or Click Here to Send Us a Message Now
Where we work
Asbestos Removal PRO offers asbestos removal services for both residential and commercial buildings in Atlanta, GA and Nearby Cities:
Alpharetta
Atlanta
Cumming
Decatur
Duluth
East Point
Fayetteville
Holly Springs
Lawrenceville
Marietta
Newnan
Norcross
Roswell
John's Creek
Suwanee
Sandy Springs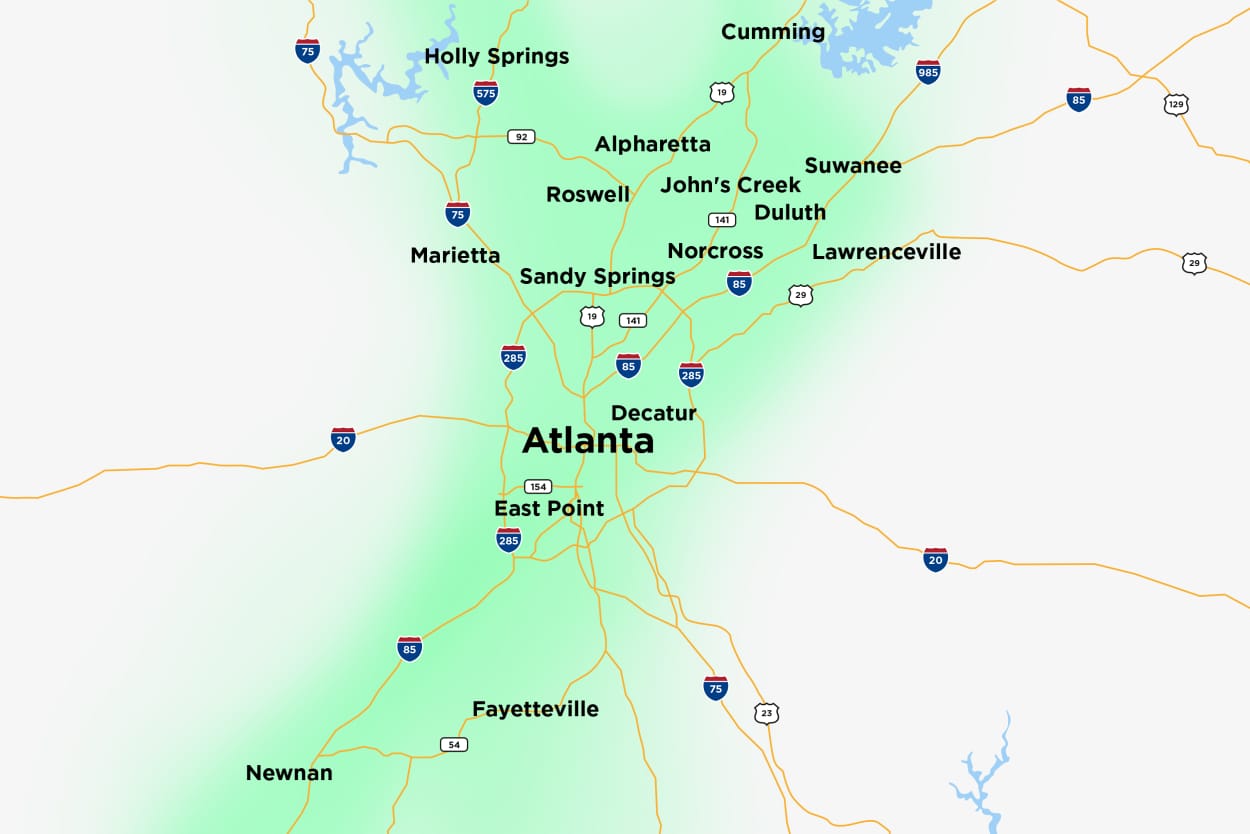 For this reason, it is important to take mold seriously and have mold analyzed by a professional. Asbestos Removal Pro offers mold remediation services in Atlanta. We can test and identify molds, as well as their potential risks. When necessary, we work together with our clients to form a plan for the removal and disposal of materials that have been affected by the mold.
Mold removal is a multi-step process that is best handled by a certified, trained professional who can safely address all the risks and concerns involved in mold remediation. The removal process consists of:
Identifying the growth of mold and isolating the contaminated area. This keeps mold spores from spreading and affecting other areas.
Addressing the moisture problem. All wet and moldy materials need to be removed and properly disposed of.  Areas such as crevices or holes where water is entering should be properly sealed.
Cleaning the affected area with appropriate detergents and solutions. A professional from Asbestos Removal Pro can identify which products need to be used to remove mold and prevent its return.
Repairing and replacing any damaged or removed materials.
To keep you and other occupants of your building safe, call Asbestos Removal Pro to ask more about our mold remediation services.
Contact us and get a free quote
Mario Ramirez
If we are on a call please send us a text message and we will get back to you ASAP.