Certified Asbestos Company by the State of Georgia
Professional Asbestos Removal in Atlanta, GA and Nearby Cities
Environmental remediation deals with removing pollutants and contaminants that could negatively affect human health, as well as the restoration of the environment after the toxic substances have been removed. Here at Asbestos Removal PRO we take our clients' physical health and well-being seriously; we offer safe solutions for your building's needs. In order to avoid potential legal problems and prevent delays in your construction process, it is essential to choose a company that has up-to-date certification and meets all regulatory standards.
When talking about environmental remediation, a number of issues come into play. There are many toxins that can enter our water, land, or be absorbed or released by building materials. As a department of Healthy Homes LLC, we form part of a network of trained, certified professionals that can assist you with mold remediation, contaminant remediation, public health control and asbestos testing and removal.
At Asbestos Removal PRO, we'll walk you through the process to make sure you're confident in every step of the way.  If you're unsure whether or not you have asbestos-containing roof shingling, our professionals will be able to conduct a thorough and safe home test to confirm your situation.
For a Free Estimate & Consultation Call Us at 404.456.6438 or Click Here to Send Us a Message Now
Where we work
Asbestos Removal PRO offers asbestos removal services for both residential and commercial buildings in Atlanta, GA and Nearby Cities:
Alpharetta
Atlanta
Cumming
Decatur
Duluth
East Point
Fayetteville
Holly Springs
Lawrenceville
Marietta
Newnan
Norcross
Roswell
John's Creek
Suwanee
Sandy Springs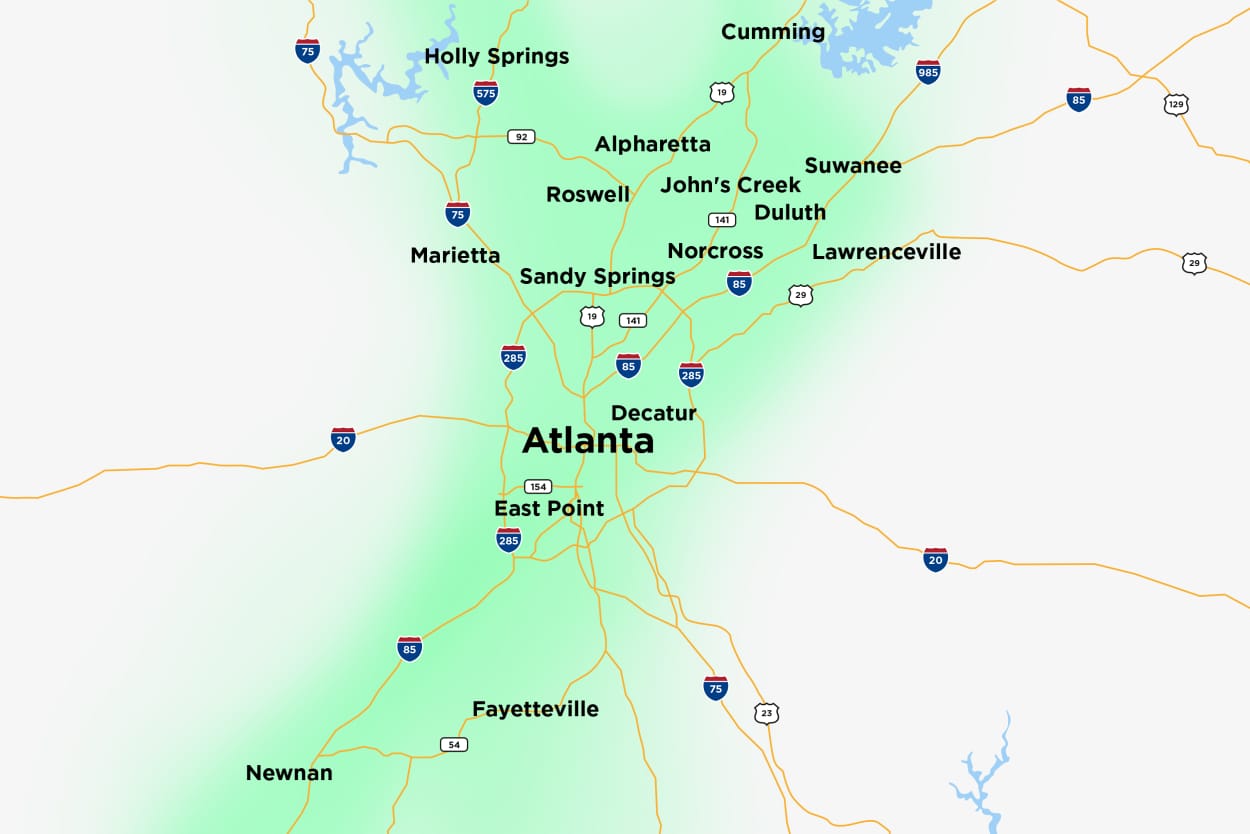 Asbestos, mold, and other contaminants can cause headaches for property managers and homeowners. Mold can pose mild to serious health risks if left untreated. With time, it can also cause extensive damage to a property and lead to the deterioration of the building itself. It is important to deal with mold quickly so that it does not continue to spread. It is also crucial that mold be properly disposed in an environmentally aware, responsible manner so that it does not continue to be a health hazard. Our team members are all trained in procedures and regulations for mold removal and remediation in order to make sure that your space is clean, safe and free of mold.
We are certified by the Environmental Protection Division of the Georgia Department of Natural Resources for the safe removal of asbestos. We offer cost effective, efficient solutions that take environmental issues into account and always prioritize human health and well-being, for your environmental concerns. Give us a call to see how we can help keep your home, office, commercial building, school or hospital safe.
Contact us and get a free quote
Mario Ramirez
If we are on a call please send us a text message and we will get back to you ASAP.