Prior to the 1980s, asbestos was a commonly-used building material. It was mixed with other substances and used in everything from insulation to flooring to siding to drywall. At the time, it was popular in part due to its chemical properties. It was considered fire-resistant.

However, materials that contain asbestos can still be flammable. Additionally, asbestos is now known to be an extremely hazardous material. Asbestos has been linked through scientific studies to health problems such as aggressive forms of cancer and lung disease.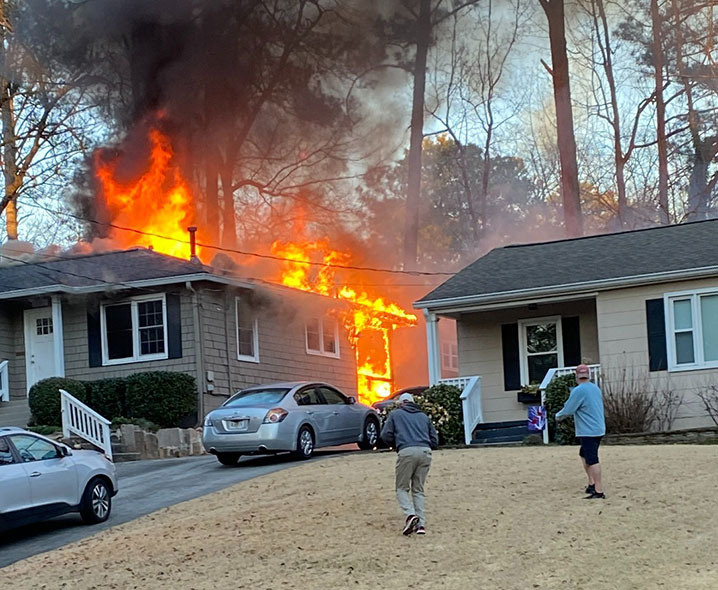 Asbestos detected after house fire
The owners of this house came to us after a local fire spread to their house, burning an entire side of the house and the entrance fence. Laboratory tests were carried out after the fire to determine if asbestos was present in the siding. Since asbestos cannot be detected by sight or smell, it is critical to have professional testing done by a certified lab if there are suspicions that asbestos may be present.
This is especially important if renovations are going to be carried out. Renovations cause significant vibrations and disturbances that can lead to asbestos particles being released into the air. These particles are harmful, even possibly deadly, when inhaled. 
If you are concerned that your building may contain asbestos, we provide asbestos testing services along with a free consultation. Confirming whether or not your house has asbestos can provide peace of mind and protect the safety of you and your family or tenants.
In this case, the lab results showed the siding consisted of 20% asbestos materials. Since asbestos was commonly mixed with a variety of materials, the amount of asbestos in any given area of a house may vary. Asbestos was widely used in siding in houses built prior to the 1980s.
After the laboratory results confirmed that the siding contained a dangerous level of asbestos, Asbestos Removal Pro put in place the proper safety procedures and prepared for the removal of the asbestos-containing siding.

Safe removal
Given that asbestos is a hazardous material that can lead to debilitating or fatal illnesses, it is wise to have a professional abatement company handle asbestos removal. The owners of this home chose to have our team of certified professionals remove the siding that contained dangerous asbestos materials.
We successfully and safely achieved elimination and remediation of 100% of the existing asbestos that was present in a total of 1,200 square feet of siding.
Since the removal process took place outside, we put into place special safety procedures to protect other outdoor areas from being contaminated. We took into account the safety of the yard, fence, garden and nearby areas to ensure they were properly protected from contamination. The workers also followed strict safety protocol to ensure their own safety as they worked on the removal.
Home, sweet home
After the safe removal and remediation of all of the existing asbestos in the siding was completed, the siding was replaced and freshly painted. The fence was also reconstructed. This allowed the owners to continue with the necessary renovations that were needed to repair the damage caused by the fire.
The owners were then able to safely and comfortably return to their home. They were not exposed to the risk of the asbestos containing material and the safety of their family was protected from the risks posed by asbestos removal.