Certified Asbestos Company by the State of Georgia
Professional Asbestos Removal in Atlanta, GA and Nearby Cities
Popcorn ceilings were particularly popular between the 1950s and 1980s. However, the problem with this style of ceiling is that it was typically made from asbestos.
Now that the issues surrounding this toxic material have become well-known, asbestos popcorn ceiling removal has become a popular service. Popcorn ceilings that were built within this time period should be removed by certified professionals to avoid inhalation of the harmful fibers.
This is especially important for popcorn textured ceilings as the risk of asbestos exposure is quite high for this specific removal process.
Professional Asbestos Abatement
Highest Standards of Quality Control
Certified Asbestos Abatement Company
100% Safe Asbestos Removal
For a Free Estimate & Consultation Call Us at 404.456.6438 or Click Here to Send Us a Message Now
Where we work
Asbestos Removal PRO offers asbestos removal services for both residential and commercial buildings in Atlanta, GA and Nearby Cities:
Alpharetta
Atlanta
Cumming
Decatur
Duluth
East Point
Fayetteville
Holly Springs
Lawrenceville
Marietta
Newnan
Norcross
Roswell
John's Creek
Suwanee
Sandy Springs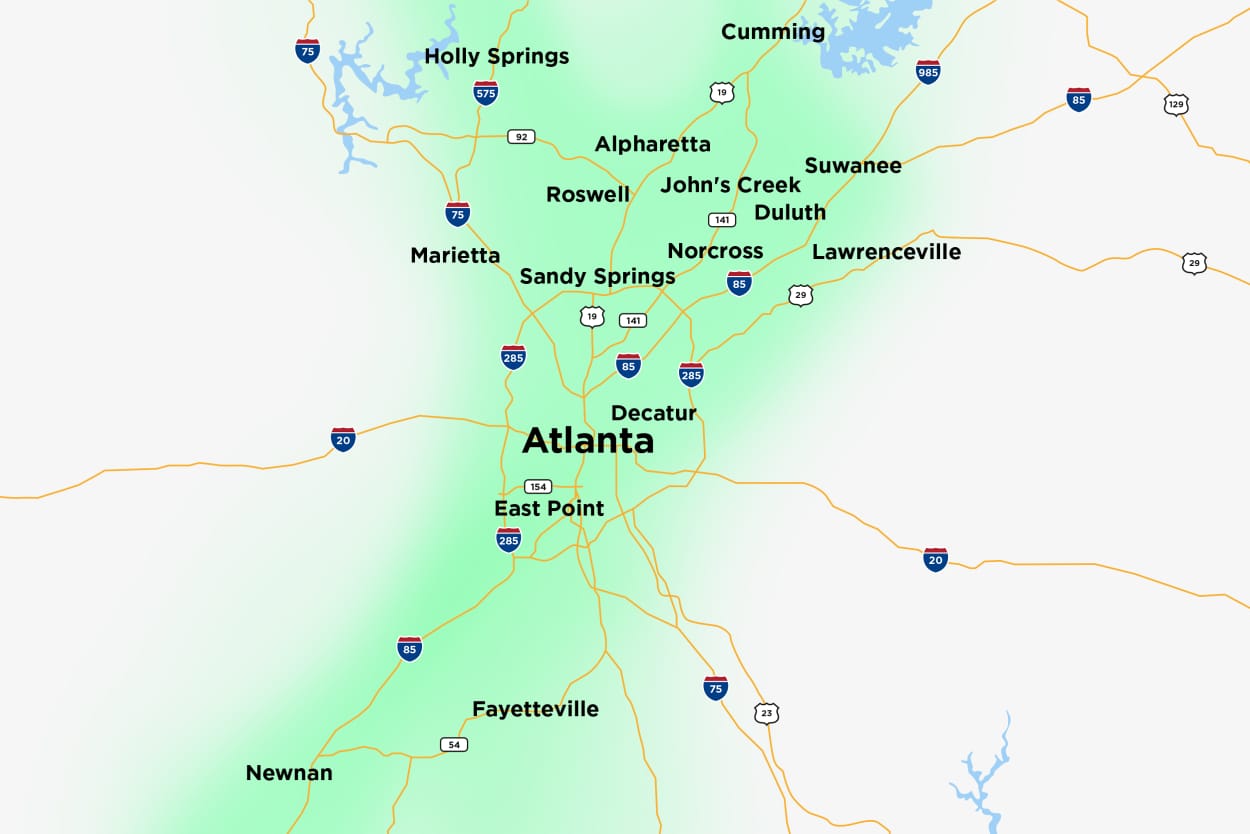 What To Do If You Have a Popcorn Ceiling
If your home contains a popcorn ceiling and was painted before the mid-1980s, there's a likely chance your ceiling contains asbestos.
If you're in the planning process of removing the popcorn ceiling, for a safer and more revitalized home, you'll need to know the risks that come with asbestos removal. Popcorn texture or popcorn ceiling removal is not something to approach lightly as there's a large risk of exposing yourself to a substance that is known to cause cancer and other chronic health issues such as asbestosis, and malignant mesothelioma.
As your qualified asbestos roof and shingle removal company, Asbestos Removal PRO also provides you with:
Professional and effective site decontamination
Aspectos inspection and testing
Safe and thorough containment and toxin removal
Proper disposal
The Safest Step to Asbestos Popcorn Ceiling Removal
Due to the range of health risks associated with asbestos fiber ingestion, your popcorn ceiling removal process should be left to the experts. By consulting a professional asbestos removal company instead of tackling it yourself, you'll be protecting yourself and your family from these health issues.
Finding the right contractor to safely and effectively remove your asbestos-containing popcorn ceiling is the next step. 
At Asbestos Removal PRO, we specialize in asbestos removal for:
Vinyl asbestos tile

Linoleum

VAT

Transite pipe

Vinyl sheet goods

Transite roofing and siding

Duct work

Texture coat

Stucco

Drywall,

Popcorn ceiling

Acoustic ceiling

Plaster

Lath and plaster

Mastic

Fireproofing

Buttonboard

Mag block

Mag piping

Other product forms
At Asbestos Removal PRO, we'll walk you through the process to make sure you're confident in the process – every step of the way. 
If you're unsure whether or not your home contains an asbestos-containing popcorn ceiling, our professionals will conduct a thorough and safe home test to confirm your situation. 
Contact us and get a free quote
Mario Ramirez
If we are on a call please send us a text message and we will get back to you ASAP.