Mold Inspections by Certified Professionals in Atlanta and the Surrounding Areas
Our Mold Experts Can Restore Your Peace of Mind with a Mold Test for Your Property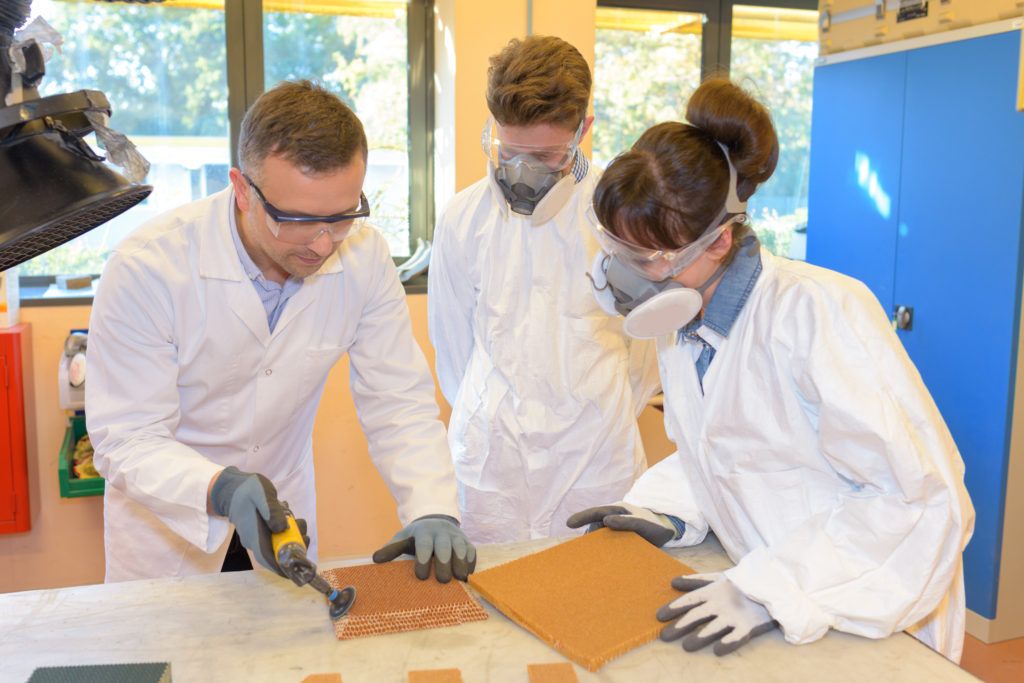 Mold Inspection Near Me
In Atlanta, Georgia, and the surrounding areas, there's a risk for hazardous mold in both residential and commercial buildings due to environmental factors. Throughout the Southern region of the United States, there are seasonally high levels of heat and high humidity during parts of the year. Additionally, there are storms and sometimes flooding that can increase the risk of moisture entering your property. These factors can increase the risk of mold growth and the accumulation of mildew. 
Since mold can crop up in areas that are impossible for you to see, like between walls, behind cabinetry, or in crawlspaces, it can be helpful to have a professional mold inspection performed. During an inspection, a certified mold inspector thoroughly and carefully checks all the nooks and crannies of the property to find mold, even in hidden places. If mold is found, we offer professional mold testing to determine the type of mold and associated risks.
Occupying a space that has mold can pose health risks and symptoms similar to allergies, like wheezing, irritation of the eyes and skin, and congestion. During our mold inspections, a professional mold inspector does a visual inspection of both exterior and interior spaces. They will use a variety of techniques like moisture analysis, and when necessary will take samples and make testing recommendations.
We make sure that the information you receive is straightforward. You'll get an easy-to-understand analysis and explanation of any mold growth. We can also provide recommendations for mold removal and remediation, if necessary.
Call Us at 404.456.6438 to get a Free Estimate & Consultation for Mold Inspection
Mold Inspection and Testing in Georgia
In Atlanta, Georgia, and the larger Atlanta metropolitan area, we provide mold inspection and testing services for homes, businesses, offices, and larger commercial buildings. Our services are available in the following areas:
Alpharetta
Atlanta
Cumming
Decatur
Duluth
East Point
Fayetteville
Holly Springs
Lawrenceville
Marietta
Newnan
Norcross
Roswell
John's Creek
Suwanee
Sandy Springs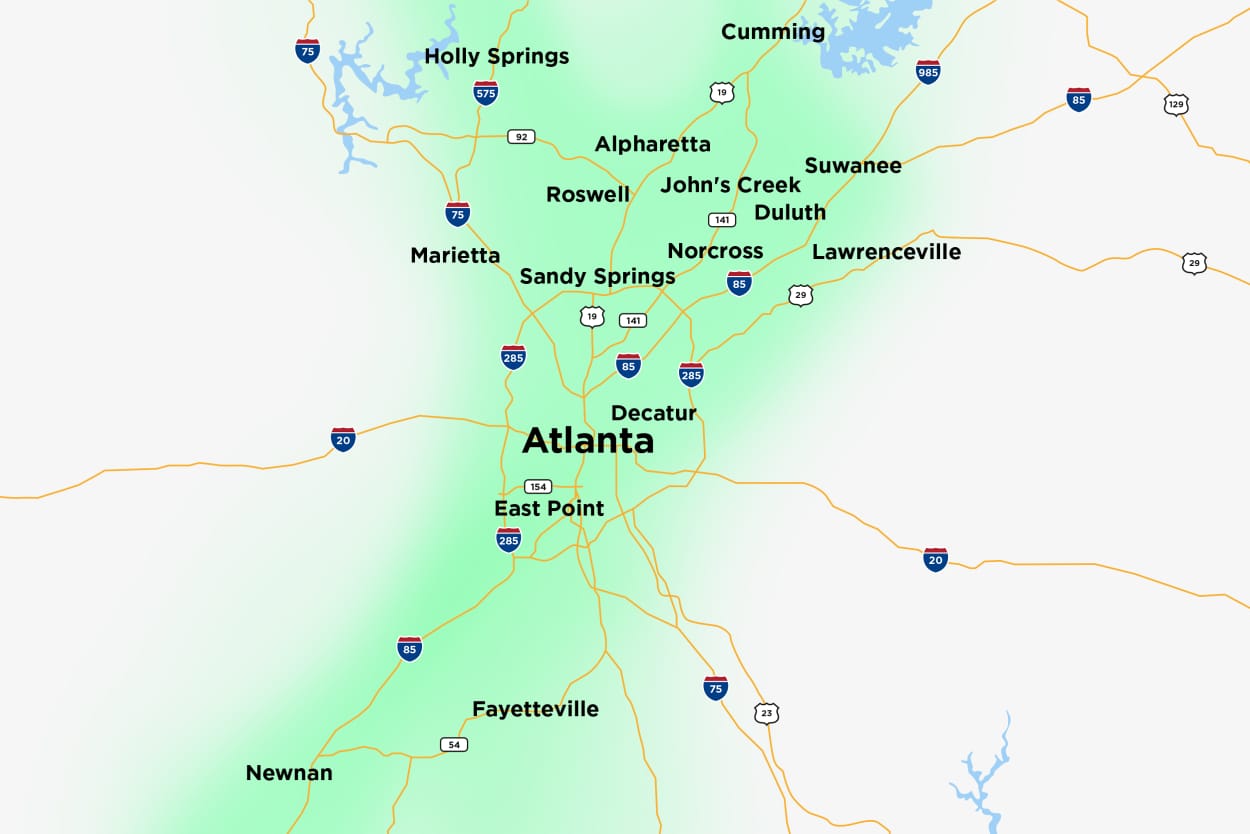 Mold Inspection Near Me
It's essential that mold inspections be very thorough. Oftentimes, mold grows in areas that are out of sight. Some areas prone to mold growth are difficult to access and impossible to see at first glance. Moisture can build up in hard-to-see places, such as near water lines that connect water heaters, dishwashers, and more. Another common cause of unwanted moisture that leads to mold is cracks present in the foundation of a building or in the exterior. Leaks around window frames or on roofs are another frequent source of moisture that can cause potentially hazardous mold to grow.
During our mold inspections, we comprehensively analyze the property and identify high-risk areas for mold. Performing a complete inspection helps to find mold in areas that are difficult to access and that you might not be able to check without professional help.
If you're in Atlanta or a nearby city in Georgia, we can help you with any and all mold-related issues. Throughout Georgia, mold can easily become a problem due to the high levels of humidity and other environmental causes. Unwanted moisture can build over time and lead to the growth of mold. Mold can be potentially hazardous and cause a variety of health concerns. Hiring a professional mold inspector with experience can help keep you and your family, tenants, or workers safe.
Certified Mold Inspector
A complete inspection of your property by a certified mold inspector can help prevent health problems associated with exposure to mold. If you find mold in your home, it can be overwhelming. We prioritize the well-being of our clients. That's why we go above and beyond. In addition to providing mold inspection services, we're committed to making sure that you understand the results of the inspection and any mold tests. 
That's why we start the process with a free consultation and quote. From the beginning, you have the chance to talk to us and get direct answers. We make sure the information related to your mold inspection is straightforward, so you can understand if there's any mold present, where the mold is located, and further recommendations such as testing or remediation.
Why a Mold Inspection is Recommended for Safety
If you suspect that there is mold growing in your office or home, then it's recommended to have a professional perform an inspection. Mold can be potentially hazardous and cause discomfort or health issues. Our team at Asbestos Removal PRO is careful to follow all regulations at the local, state, and federal levels. Our certified mold inspectors follow the highest safety standards during an inspection and bring all necessary safety equipment.

Mold Inspection Services
We offer a variety of services related to mold inspections:
Free quote and consultation

Sample-taking of mold

Mold Testing

Mold Reports

Inspections of both residential and commercial properties, of any size

Inspections after weather events, such as storms or floods

Certified mold professionals and proper safety equipment

Guidance for mold remediation
Contact us to get a free quote for your mold inspection
A mold inspection can help you discover and understand any mold growth in your home or office property. We take safety seriously at Asbestos Removal PRO. We're committed to providing the highest quality mold inspections and testing for our clients. Reach out today for a free consultation and estimate for your mold inspection.
Contact us to learn more
Mario Ramirez
If we are on a call please send us a text message and we will get back to you ASAP.