Certified Asbestos Company by the State of Georgia
Professional Asbestos Removal in Atlanta, GA and Nearby Cities
Think the siding of your home might contain asbestos? You're not alone. Many homes built in Atlanta and surrounding cities contain asbestos-cement siding. Fortunately, when left to professionals, replacing asbestos siding can be absolutely safe.
Does my home contain asbestos siding?
Asbestos-cement was the recommended siding material from the 1940s to 1960s, before the harmful side effects of asbestos were discovered. This is because asbestos is fireproof, durable, and insulating. It was also a relatively cheap material, and was easy to clean and upkeep.
If your home was built or remodeled before the mid 1980s, there is a good chance that your home's siding could contain asbestos. If you believe that your home's siding contains asbestos, it is important to contact a licensed asbestos removal contractor for the health of your family.
For a Free Estimate & Consultation Call Us at 404.456.6438 or Click Here to Send Us a Message Now
Where we work
Asbestos Removal PRO offers asbestos removal services for both residential and commercial buildings in Atlanta, GA and Nearby Cities:
Alpharetta
Atlanta
Cumming
Decatur
Duluth
East Point
Fayetteville
Holly Springs
Lawrenceville
Marietta
Newnan
Norcross
Roswell
John's Creek
Suwanee
Sandy Springs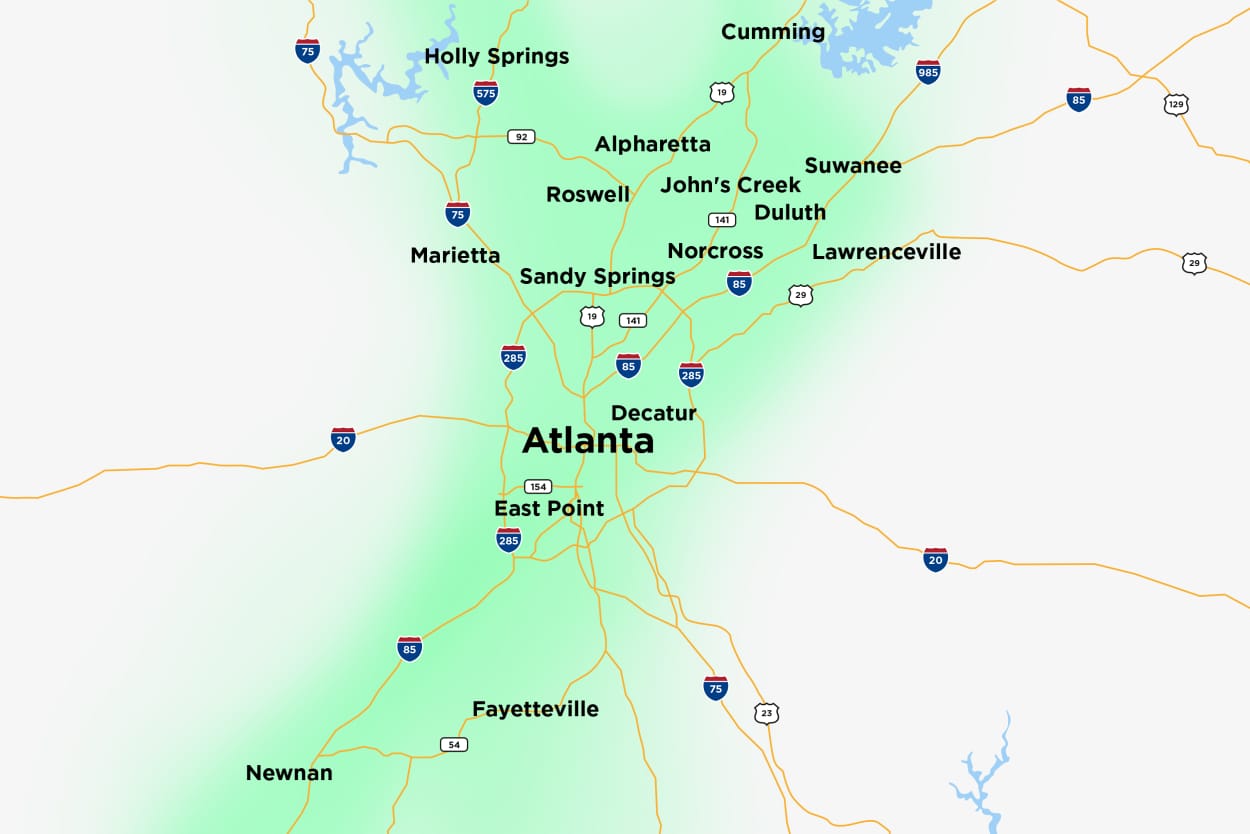 Should I encapsulate asbestos siding or remove it?
If left alone, asbestos siding is usually not harmful. However, if you are doing any construction or restoration in your home, or if the asbestos fibers are disturbed for any reason, they can do some serious damage to your health.
It is best to contact trained professionals, like Asbestos Removal PRO, to assess the best way to safely contain your asbestos siding whether that be encapsulation or removal.
Asbestos siding removal
If the asbestos siding in your home is damaged beyond repair, or you are hoping to make major changes to your home, removal might be the only option. Removal is complex and must be undertaken by a contractor with special training.
Asbestos Removal PRO is a licensed asbestos removal company in the state of Georgia, and follows all the healthy and safety protocols laid out by OSHA. Our contractors know how to implement safe and efficient asbestos siding disposal.
Sealing and repairing asbestos siding
Sometimes, it's better to repair and seal existing asbestos siding than it is to remove it. Sealing involves treating and cleaning the material with a sealant that prevents the harmful fibers from being released.
The asbestos cement shingles can then be covered with insulation panels and siding of vinyl, aluminium, or another safe and durable material. When you encapsulate asbestos siding in this way, it ensures the asbestos fibers are safely contained.
Even if only minor repairs are needed, it is not recommended to attempt them yourself. Improper handling of asbestos can create a hazard to your health, and is best left to professional asbestos removal firms.
Sealing and repairing asbestos siding is usually cheaper than removal, but may make later removal more difficult and costly down the line.
Contact Asbestos Removal PRO to keep your home safe
If you are concerned about the scope of the work, Asbestos Removal PRO provides free quotes and consultations to our clients, so you can make an informed decision about your home.
Contact us and get a free quote
Mario Ramirez
If we are on a call please send us a text message and we will get back to you ASAP.