Certified Asbestos Company by the State of Georgia
Professional Asbestos Testing in Atlanta, GA and Nearby Cities
Sometimes when a tree falls into your property, you end up with more issues than you expected. One of the main concerns with tree damage to your home is asbestos exposure, and tree removal might not be considered safe until your house has tested free of asbestos. Luckily, Asbestos Removal PRO offers asbestos services for fallen tree removal in Atlanta. 
Whether you are the property owner or you are a tree removal professional, our licensed contractors at Asbestos Removal PRO are happy to work with you to ensure property is asbestos-free and safe to begin repairs on. 
 Why is asbestos testing necessary for fallen tree removal?
If your property contains asbestos containing materials, a fallen tree can disrupt asbestos fibers and distribute them into the air. Asbestos fibers are extremely hazardous to your health, and can cause mesothelioma cancer, asbestosis, and lung disease among other issues.
If roof tiles, insulation, or other materials in your home contain asbestos, any damage to them would make tree removal harmful for you, the tree removal company, and the construction company working to fix the damage. 
For a Free Estimate & Consultation Call Us at 404.456.6438 or Click Here to Send Us a Message Now
Where we work
Asbestos Removal PRO offers asbestos removal services for both residential and commercial buildings in Atlanta, GA and Nearby Cities:
Alpharetta
Atlanta
Cumming
Decatur
Duluth
East Point
Fayetteville
Holly Springs
Lawrenceville
Marietta
Newnan
Norcross
Roswell
John's Creek
Suwanee
Sandy Springs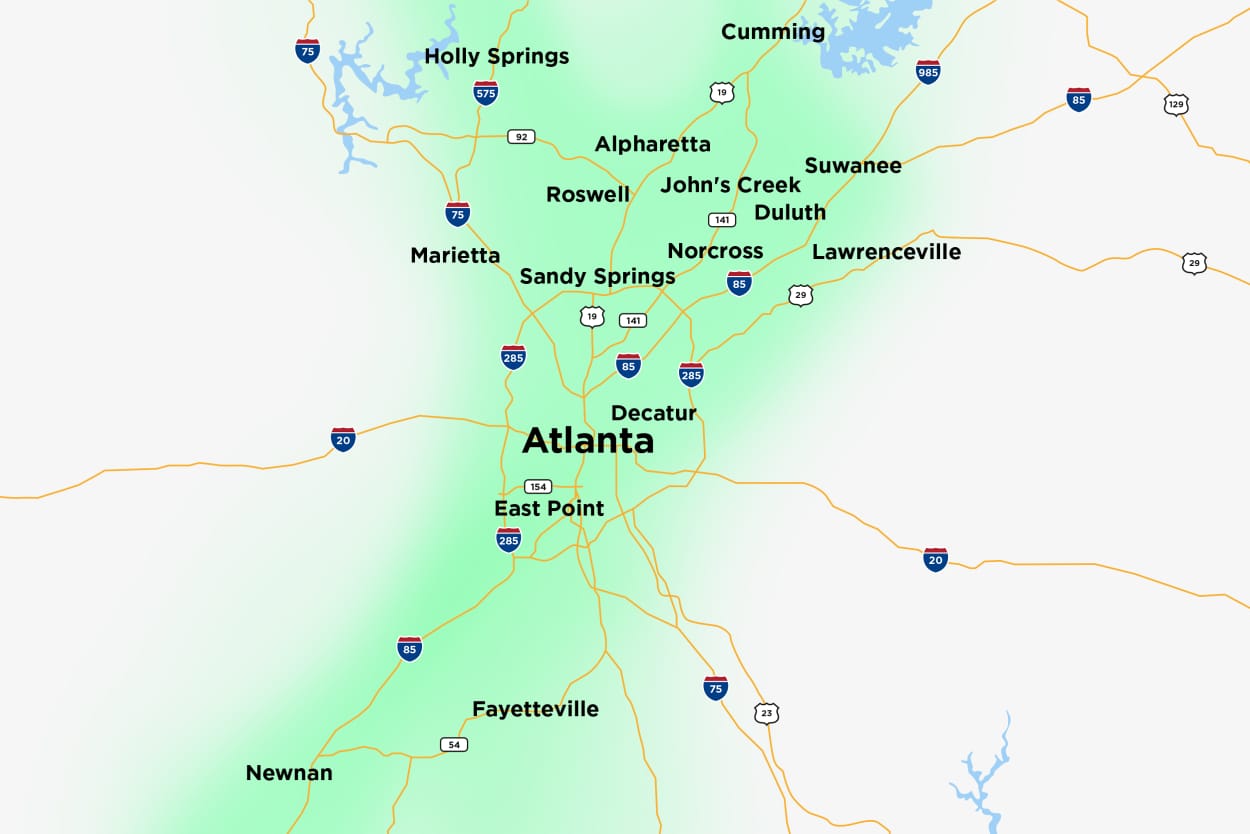 As such, it's important to test suspicious materials for asbestos before clearing away any fallen trees, especially if your building was constructed before the mid 1980s. Asbestos was an extremely popular building material before that time, so there is a higher chance that your house could contain asbestos. 
Types of asbestos services for fallen tree removal in Atlanta
Asbestos Removal PRO is licensed and certified to work with all types of asbestos containing materials. Our asbestos services for fallen tree removal in Atlanta include asbestos testing, asbestos encapsulation, asbestos removal, and more. 
For asbestos testing, we will take samples of damaged materials in your home and send them to a special lab for testing. We can also test the air for evidence of asbestos fibers. If the tests come back negative, you will be cleared for fallen tree removal and repairs. 
If you have asbestos containing materials on your property, it is vital for our contractors to encapsulate or remove the materials before further work is down on your home. Our highly experienced team will make sure your property is safe to continue work as swiftly as possible. 
Will my insurance cover asbestos testing and removal? 
Homeowners insurance doesn't usually cover asbestos removal, but in the case of fallen trees, it might! Your insurance covers damages due to a number of outside forces (like wind or lightning) that are called "perils." You should check your insurance policy to double-check which perils are covered.
Most home insurance will cover some or all of the repair costs for accidents that fall into the peril category. If the tree or trees that fell on your property were otherwise healthy, then your insurance may cover the cost of repairs – including the cost of asbestos testing and removal. It's important to contact your insurance company directly to confirm. 
Book our asbestos testing and removal services today! 
After the fallen trees, we know you don't need any more surprises. That's why we keep all our pricing transparent. Even if your insurance will not cover the cost of asbestos services, there is no need to worry. Asbestos Removal PRO offers free consultations and quotes on all our services, so you'll know exactly what to expect before we begin. 
If you would like to book asbestos services for fallen tree removal in Atlanta or surrounding areas, please reach out to the team at Asbestos Removal PRO today. We will work with you and the tree removal service to ensure your house feels like a home again. 

Ensure your safety, and call Asbestos Removal PRO today
Asbestos Removal PRO offers FREE quotes and consultations to our clients in Atlanta and surrounding cities. We can test your HVAC systems to see if they are a danger to you and your loved ones, and help to ensure you're breathing easy for years to come.
Contact us and get a free quote
Mario Ramirez
If we are on a call please send us a text message and we will get back to you ASAP.