Certified Asbestos Company by the State of Georgia
Professional Asbestos Testing in Atlanta, GA and Nearby Cities
Asbestos was routinely using in building materials prior to the 1970's. Common materials that may contain asbestos include insulation, ceiling and floor tiles, siding, adhesives and some paints. Although it was praised at the time for its unique properties such as being fire-proof, we now know that it is a dangerous carcinogen. Asbestos may need to be removed if the asbestos containing material in your home has become damaged, and is crumbling or flaking. Removal is not always warranted, sometimes it is worse to disturb the materials rather than to simply leave them alone.
A professional can help you find out what you need to do about the asbestos situation in your building. Asbestos Removal Pro has trained, certified employees who can help you make responsible decisions about how to deal with the potential presence of asbestos in your property.
Professional Asbestos Abatement
Highest Standards of Quality Control
For a Free Estimate & Consultation Call Us at 404.456.6438 or Click Here to Send Us a Message Now
Where we work
Asbestos Removal PRO offers asbestos removal services for both residential and commercial buildings in Atlanta, GA and Nearby Cities:
Alpharetta
Atlanta
Cumming
Decatur
Duluth
East Point
Fayetteville
Holly Springs
Lawrenceville
Marietta
Newnan
Norcross
Roswell
John's Creek
Suwanee
Sandy Springs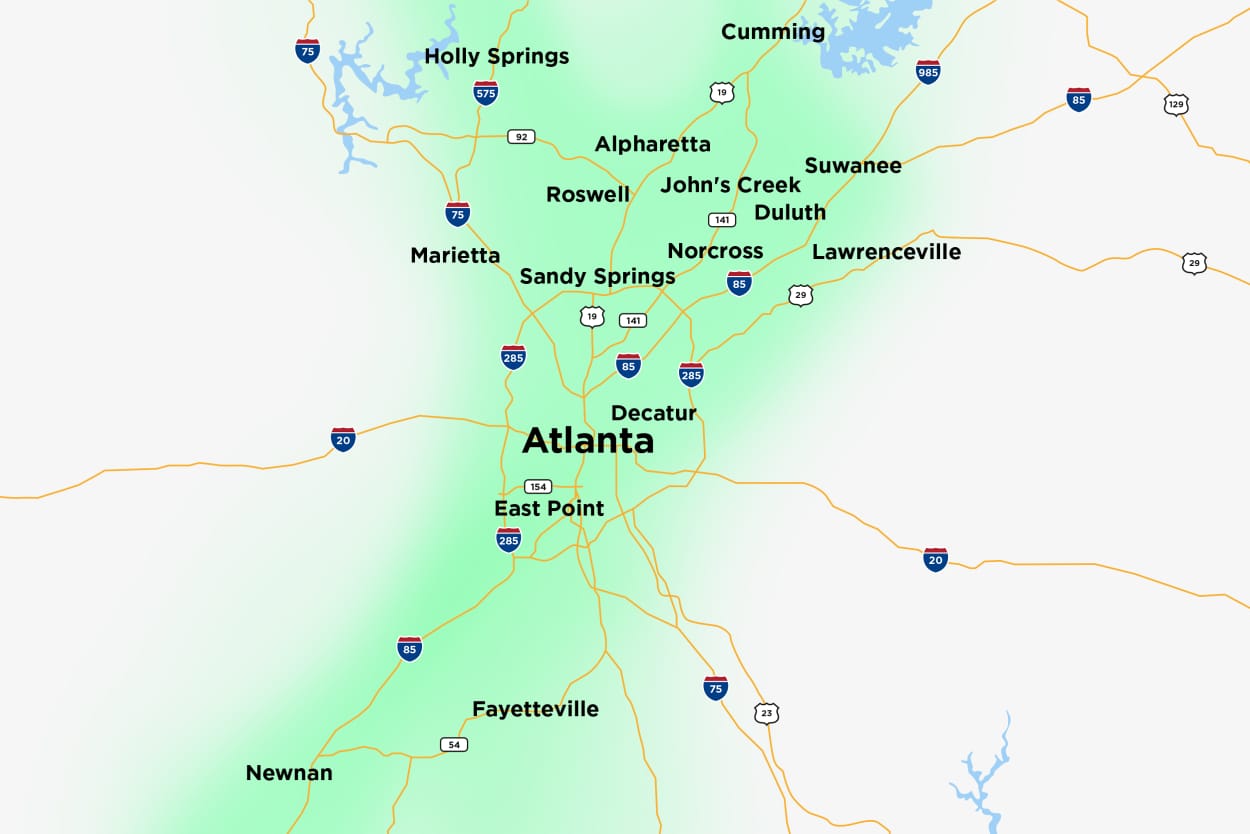 Asbestos removal, when performed correctly, should be safe, cost-effective and efficient. We pride ourselves in our customer service and are always updating our procedures to offer the highest quality service we possibly can.
When talking about asbestos removal, the first step is to identify whether or not there is asbestos and if it is posing a threat. This requires laboratory testing. Asbestos particles in the air are impossible to see, taste or smell. Having a professional perform a test can determine where there is asbestos in the air and how much. This test can be a valuable investment for property owners, as it is often requested during the sale of a property and can also provide owners with the tranquility of knowing that the space they own is safe to be occupied.
The second step is to have the asbestos professionally removed. When dealing with asbestos, it is important that a licensed professional oversee its removal and disposal. In the long run, you save money by properly dealing with asbestos using a licensed contractor. Improperly removing or disposing of asbestos can be a health hazard, and also result in hefty fines or building shut downs.
Asbestos removal costs may include the inspection and analysis, the removal itself and remodeling. The costs vary depending on how much work needs to be done. Asbestos Removal Pro can analyze your unique building, facility or home to identify the most cost-effective strategy for responsibly removing asbestos.
Contact us and get a free quote
Mario Ramirez
If we are on a call please send us a text message and we will get back to you ASAP.