Certified Asbestos Company by the State of Georgia
Professional Asbestos Removal in Atlanta, GA and Nearby Cities
Asbestos Removal PRO offers encapsulation and removal services for asbestos-containing pipes in Atlanta and surrounding communities. We are licensed asbestos removal contractors in the state of Georgia, and can help you safely dispose of asbestos-containing pipes in your area.
What are asbestos-containing pipes?
Until the 1970s, it was very common to use asbestos-containing materials for pipes because of the natural heat resisting and insulating properties of asbestos. Asbestos cement pipes, and asbestos pipe insulation, were both used frequently to connect to radiators or steam heaters.
Unfortunately, there comes a time when those pipes need to be repaired or replaced. If you believe that pipes in your home or building might contain asbestos, it is crucial to contact a qualified asbestos pipe removal company to assess the situation and properly encapsulate the pipes.
For a Free Estimate & Consultation Call Us at 404.456.6438 or Click Here to Send Us a Message Now
Where we work
Asbestos Removal PRO offers asbestos removal services for both residential and commercial buildings in Atlanta, GA and Nearby Cities:
Alpharetta
Atlanta
Cumming
Decatur
Duluth
East Point
Fayetteville
Holly Springs
Lawrenceville
Marietta
Newnan
Norcross
Roswell
John's Creek
Suwanee
Sandy Springs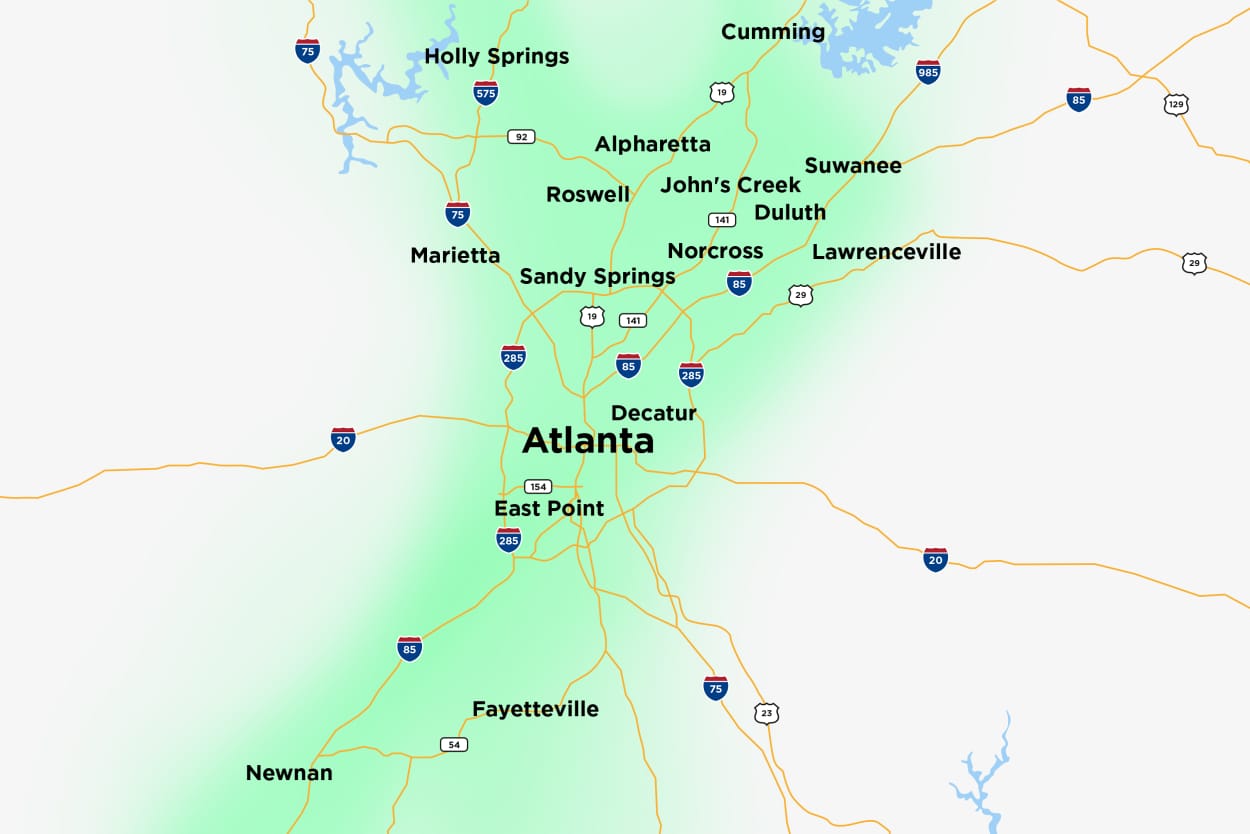 Why do asbestos-containing pipes need to be removed? 
While there are thankfully no health risks associated with drinking water transported by asbestos cement pipes, the pipes do break down over time and need replacing.
Replacing these pipes, especially if they are old and eroding, causes asbestos fibres to become airborne, and these airborne fibers are extremely hazardous if inhaled.
Professional asbestos cement pipe removal, along with asbestos pipe insulation removal, is the best way to avoid health risks for inhabitants, and for workers during current or future projects.
How does asbestos cement pipe removal work?
Asbestos cement pipe and asbestos pipe insulation encapsulation should always be carried out by a licensed asbestos removal company like Asbestos Removal PRO.
Our company follows strict health and safety guidelines laid out by OSHA, and knows how to properly remove and seal the hazardous material without any danger to the public or our workers.
The removal of asbestos-containing water pipes is often carried out in public places, and beneath roads and pavement. We will communicate with all the relevant businesses and the community to reduce risk and public concern.
To properly remove or encapsulate asbestos pipes, our team undertakes the following precautions:
Placing barriers around the work areas during excavation
Ensuring our workers wear protective equipment and clothing
Wetting down the asbestos pipe before removal
Completely wrapping the asbestos cement pipe before disposal
Putting up visible signage warning everyone that asbestos flue pipe removal is taking place
How can I tell if asbestos is in my home or office?
Asbestos can be found in many materials, such as floor and ceiling tiles, HVAC ducting, piping, furnace insulation, sprayed on fireproofing and sound insulation, siding, and even certain types of paint. Unfortunately, the fibers are impossible to smell, see, or taste, and can only be identified through laboratory testing.
Just because you are not aware of asbestos, and don't feel sick, doesn't mean asbestos isn't there. The symptoms of asbestos inhalation are not immediate, and can show up as late as twenty to fifty years after exposure.
As part of the full range of services we offer as licensed asbestos removal contractors, we can provide you with testing that can confirm whether or not there are asbestos containing materials in your property and the best plan of action if asbestos is identified.
Contact Asbestos Removal PRO for a FREE quote and consultation
Asbestos Removal PRO is skilled at servicing all sorts of buildings, from small residential homes, to large commercial properties. We want to ensure that the residents of Atlanta can enjoy a safe environment for years to come, and we offer free, no-obligation consultations to our customers. 
Schedule your consultation with us today!

Contact us and get a free quote
Mario Ramirez
If we are on a call please send us a text message and we will get back to you ASAP.