Certified Asbestos Company by the State of Georgia
Professional Asbestos Removal in Atlanta, GA and Nearby Cities
Asbestos Removal PRO doesn't only handle asbestos – we are also trained in the safe abatement and removal of lead-based paint. This paint can be harmful to your health, especially if you have children in the house, so it is important to contact professionals in lead removal.
Why is lead-based paint dangerous?
Even very low levels of lead can have negative health effects, particularly in children under the age of six. Low levels of exposure can lead to behavioural issues and learning disabilities in small children, and high levels of exposure can have even worse effects.
Exposure to lead-based paint usually occurs from ingestion. The paint does not present a health hazard as long as the paint is not chipping, flaking, crushed or sanded into dust.
For a Free Estimate & Consultation Call Us at 404.456.6438 or Click Here to Send Us a Message Now
Where we work
Asbestos Removal PRO offers asbestos removal services for both residential and commercial buildings in Atlanta, GA and Nearby Cities:
Alpharetta
Atlanta
Cumming
Decatur
Duluth
East Point
Fayetteville
Holly Springs
Lawrenceville
Marietta
Newnan
Norcross
Roswell
John's Creek
Suwanee
Sandy Springs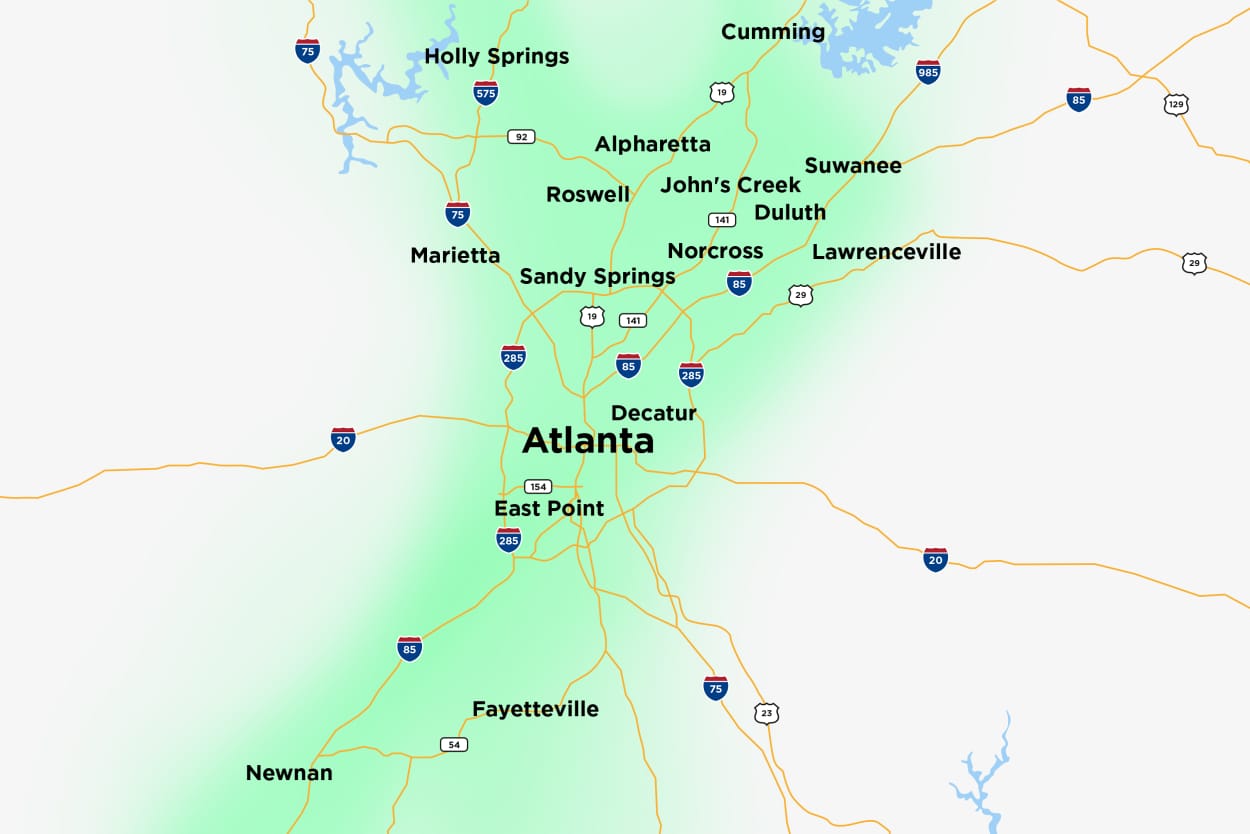 In children, high levels of lead can cause:
Slowed growth
Nerve damage
Kidney damage
Brain damage
Hearing issues
Headaches
While children are the most affected, adults also experience harmful side effects due to lead exposure
In adults, lead exposure can cause:
Hearing and vision loss
High blood pressure
Fertility issues
Kidney damage
Nerve damage
Anemia
Muscle and joint pain
Issues with memory and concentration
[/column_1]
Does my home contain lead-based paint?
Lead paint was used extensively from the 1940s to the late 1970s when it was banned by the Consumer Product Safety Commission. If your house was built before 1978, there may be lead-based paint on the interior or exterior of your house.
Many exterior and interior paints contained lead in smaller amounts until 1992 when new laws were passed. Today, paint that contains lead should have a warning label, so make sure to check for one if you are painting your home.
Even if you don't have children in your home, it's important to know if your house has lead-based paint. If you plan to sell or rent your home, you are legally obligated to disclose information about lead-based paint on the premises.
The only way to know for sure whether there is lead paint in your home is with an inspection, which Asbestos Removal PRO can help you with.
Should lead-based paint be removed? 
As long as the paint in your home is not cracking or peeling, it shouldn't present immediate danger to you. It is important, however, to keep the paint contained. For lead paint removal or covering, it's best to hire trained professionals to limit your exposure to the harmful materials.
Certified lead removal professionals will take precautions during lead paint abatement, such as: 
Sealing off rooms and ventilation ducts using heavy plastic sheets
Removing or covering everything in the room (furniture, carpet, toys, dishware, etc.)
Using special HEPA filtered vacuum cleaners and sanders
Contact Asbestos Removal PRO today for a free quote
Our certified contractors can help you test your home for lead-based paint, and give you a quote on removal free of charge.
Contact us and get a free quote
Mario Ramirez
If we are on a call please send us a text message and we will get back to you ASAP.